The PuttView indoor putting green technology transforms any putting green into a fully interactive learning experience. The system gives the tools to not only the players but PGA professionals and golf coaches to give the ultimate experience for their students.
Check out our first look video and review of the PuttView P7 Plus Home Putting System below. Be sure to Contact Me for special PuttView Pricing and Exclusive discounts for Golf Simulator Videos Subscribers.
PuttView P7 Home Putting System
PuttView set out with a mission to create a more simple all-in-one system when designing the PuttView P7 Home Series. This indoor putting green system focuses on the needs for home practice but still featuring ultimate accuracy, performance, and great fun.
The nice part about the PuttView P7 is the compact size allowing it to fit in most homes, golf clubs, and commercial facilities. Since the P7 system features the same great coaching and training tools this can be added to a home but also put inside a golf clubhouse, commercial training facility, fitness center, and more. For those looking to go bigger or custom, PuttView can add the technology to any green including a DIY or professionally installed green of your choice.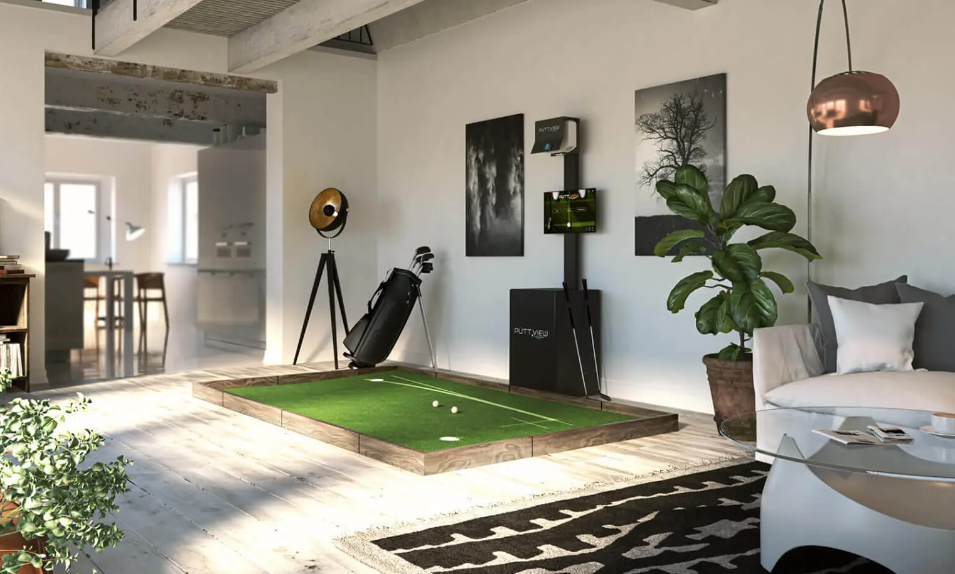 Users can choose between guided practice sessions where they can use predefined sequences or create their own custom putting challenges. The performance tracking capabilities uses the ball tracking technology to offer real time path traces of the ball and store the ball end locations for every putt.
Features
Basic Features (Read)

Contour Lines
Fall Lines
Slope Percentage

Basic Features (Line)

Ideal Line
Aiming Line
Setup Line
Move Ball
Visual Cues

Basic Features (Speed)

Swing Guide
Power Control
Speed Animation
Speed Corridor

Practice Mode

Free Practice
Practice Drills
Random Putts
Challenge Zone

Customization

Width, Color, Brightness
Virtual Holes
Sketch Mode

User Profiles

Ball Tracking
Profiles
Dashboard
Shot Pattern

Putting Games

Putt Pong
Shooter
Maze
Hole-Out-Challenge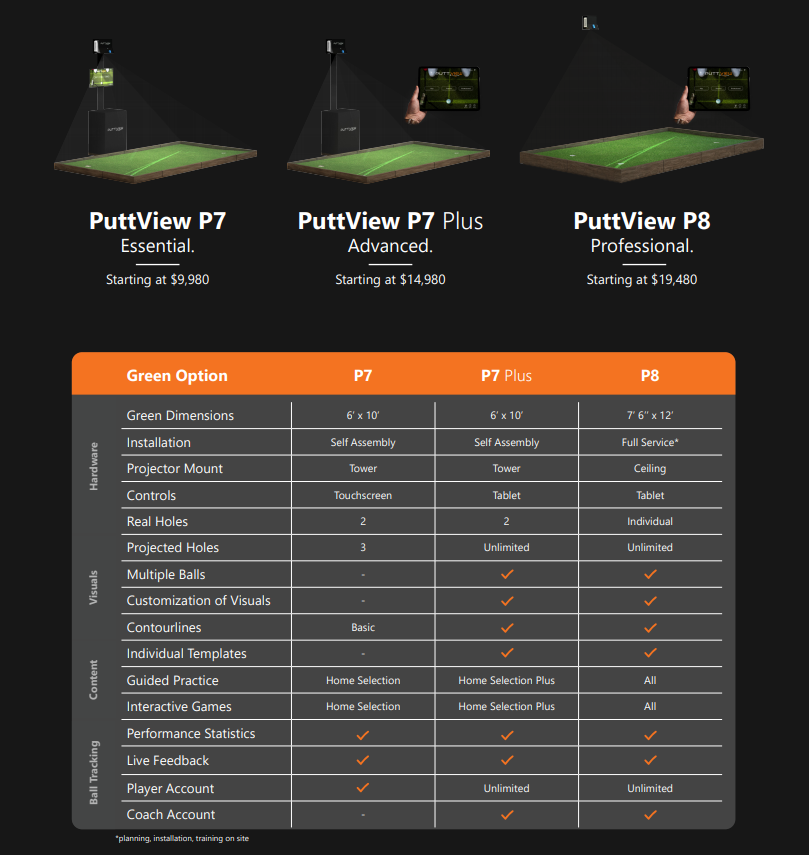 PuttView Virtual Green, Professional, & Commercial Options
There are many PuttView options past the smaller home series and pre-built greens. You can step up to a custom green either installed by a local putting turf professional or you can even do it yourself. This then allows you to add various models of PuttView such as a single projector C1 system or dual projector C2 system. Depending on the size of your green you many even want to install dual PuttView systems such as tow C2 systems giving you 4 projectors.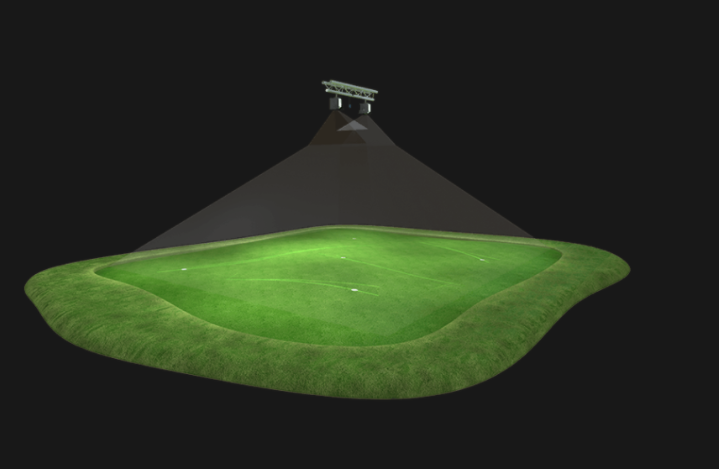 The ultimate PuttView variation for smaller spaces is the moving green options. PuttView can be used with one of 3 partners including the TruBreak Platform, the Zen Green Stage, or Virtual Green by Full Swing Golf Simulators.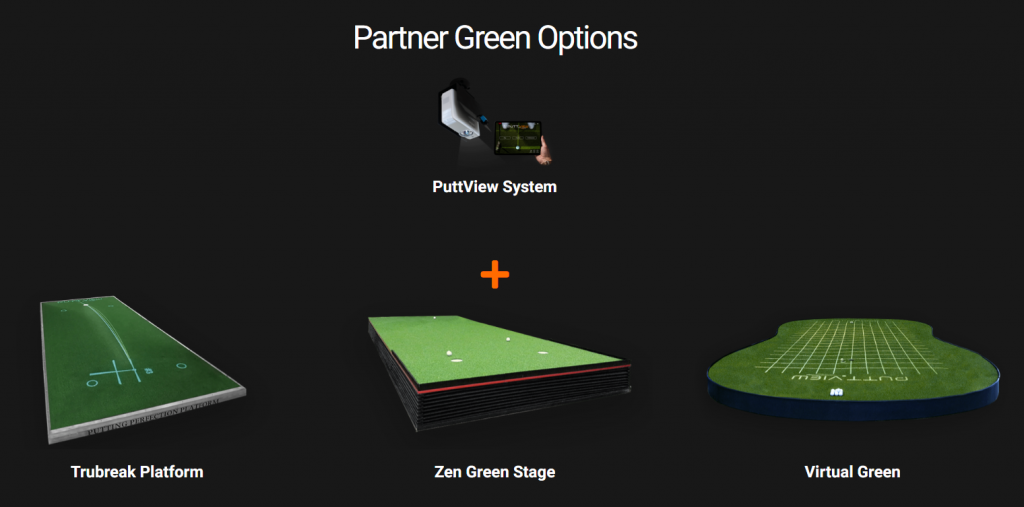 How Does PuttView Work?
The Technology Behind PuttView
3D Data
An accurate 3D Model is the foundation of PuttView. For existing greens and new custom built greens, they use modern surveying technology to scan the green and get 3D Models. The PuttView greens, Home as well as Professional Series, do not require scanning since they're manufactured in mm-accuracy according to our 3D Models.
Calculation
Using the accurate 3D Model of the green, PuttView can calculate any putt on that surface: for any starting position, for any hole location, and any starting speed. What is necessary? Calculations run on a compact but powerful PC that also feeds the projector(s). All electronics needed to run PuttView are part of the package and will be installed by our experienced PuttView technicians.
Projection
By installing one or more projectors at the costumer's location PuttView can transform your putting green of up to 540 sqft into an interactive learning environment. The visualization shows you what you should be doing by visualizing break, line and speed directly on the green.
Interaction
An interactive tablet serves as the control center of PuttView. It allows you to change and control all visuals while walking freely on or near the putting green. The tablet gives access to your putting data and tracks your performance over time.
Feedback
The ball tracking technology is able to track your played putt, draw the actual path on the green in real-time and save your putting data. Analyze your tendencies, derive meaningful insights and track your performance overt time.